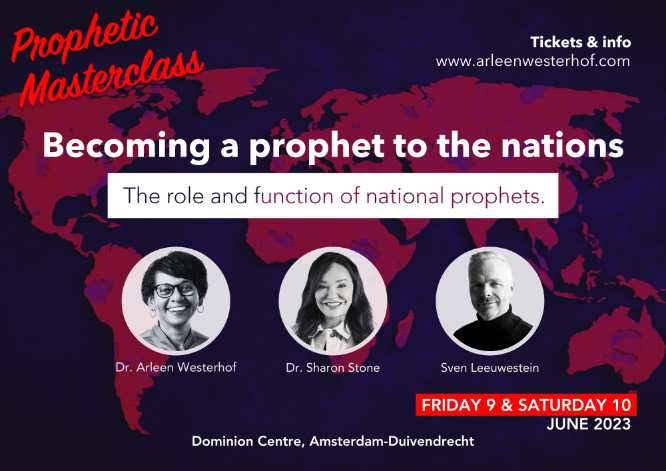 In January 2023 the European Prophetic Council prophesied: "Prophets will be bold in the public glare and respected in the eyes of the world.  They will dispense My justice, direction and correction in complex situations before kings, queens, presidents and leaders. They will speak with wisdom to dispel confusion and injustice in all spheres including government, law and finance. Signs, wonders and miracles will accompany God's words spoken through them."
To date, only a few people have functioned like this. However, we believe that God wants to make the ability to function at this level accessible to many more.
In this masterclass you will learn about:
and much more
Who's this for:
All who have experience – both practical and theoretical – in prophecy and who want to grow in their authority and understanding.
General information:
Location: Dominion Centre, Ellermanstraat 30, 1114 AK Amsterdam-Duivendrecht
Dates: Friday 9 and Saturday 10 June
Times: 09:30 – 17:00 (both days)
Costs: 90 euros p.p. incl. lunches
Registration:
Fill in the registration form to apply to participate. You will receive an email from us with confirmation and payment instructions after we receive and evaluate the information.
Your registration will be complete once payment is received.